News
Thursday 23 May 2019
International Expert Conference Dedicated to the 40th Anniversary of IPSAR C36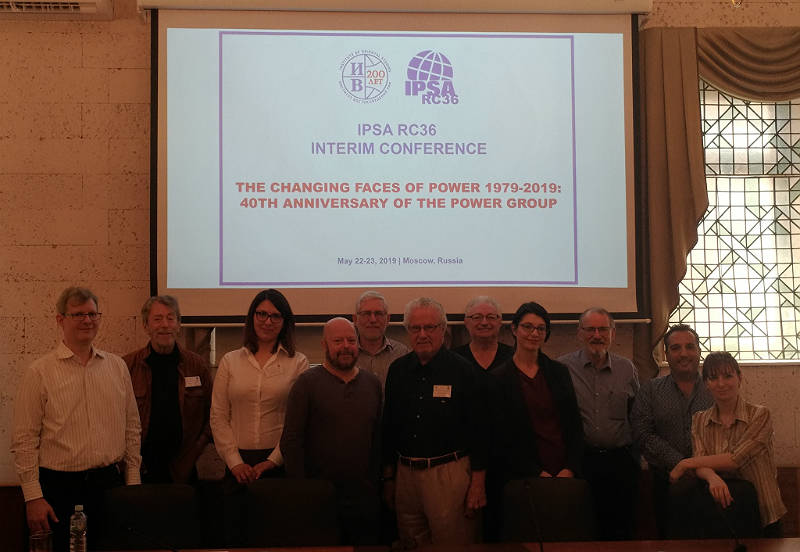 On May 22nd-23rd, 2019 the Institute of Oriental Studies hosted the expert conference of the Political Policy Research Committee of the International Political Science Association (IPSA RC36), that brought together leading scientists from Europe, Asia, Africa, America, and Australia.
In 2019 the IPSA RC36 Committee celebrated its anniversary, so the main topic of the conference was "The Changing Faces of Power, 1979-2019: the 40th Anniversary of the Power Study Group." This event was the result of the fruitful cooperation of the Institute of Oriental Studies of the Russian Academy of Sciences with the IAPN, that made it possible to invite a number of unique specialists in the field of studying political science in Moscow. The reports were attended by David Baldwin (Princeton University, USA), John Gavent (University of Sussex, Great Britain), Giulio M. Gallarotti (Wesleyan University, USA), Gutif Mupambwa and Johan Zaaiman (Northwest University, South Africa), Victoria Hudson (Royal College of London, UK), Marco Antonio Batista Martins (University of Evora, Portugal), David Streker (University of Frankfurt, Germany) ), RosalbaBelmonte (University of Perugia, Italy), and Philip G. Cherni (University of Manchester, UK).
Dmitry Mosyakov, Director of the Center of South-East Asia, Australia, and Oceania, represented Russia at this high level expert meeting. He delivered a presentation on the most important topic of the Russia's relations transformation with the countries of the Indo-Asiatic-Pacific regions. Then Alina Vladimirova, Center for Juve researcher, raised the issue of analyzing the quality of national strength ratings.
The conference format provided for a detailed discussion of the articles that were prepared at that time for publication in a special thematic issue of the Journal of Political Power. During the preparation of the event, all the articles were selected carefully, but the experts still had a lot of questions regarding the research presented, and active discussions became an extremely important part of this meeting.
As a result, foreign visitors noted the depth of the program, as well as high level of conference organization. For most participants their first visit to Russia was indelible and destroyed many negative stereotypes. All of them expressed the desire to work with Russian scientists and organizations. Julio Gallarotti, the Chairman of the IPSA RC36 Committee, and Alina Vladimirova, the Vice-Chairman of the IPSA RC36, promised that our institute would continue to cooperate with the Committee, espesially in the framework of the Political Science World Congress scheduled to be held in Lisbon in 2020.