News
Thursday 19 December 2019
"Southeast Asia and the South Pacific Region: Actual Problems of Development"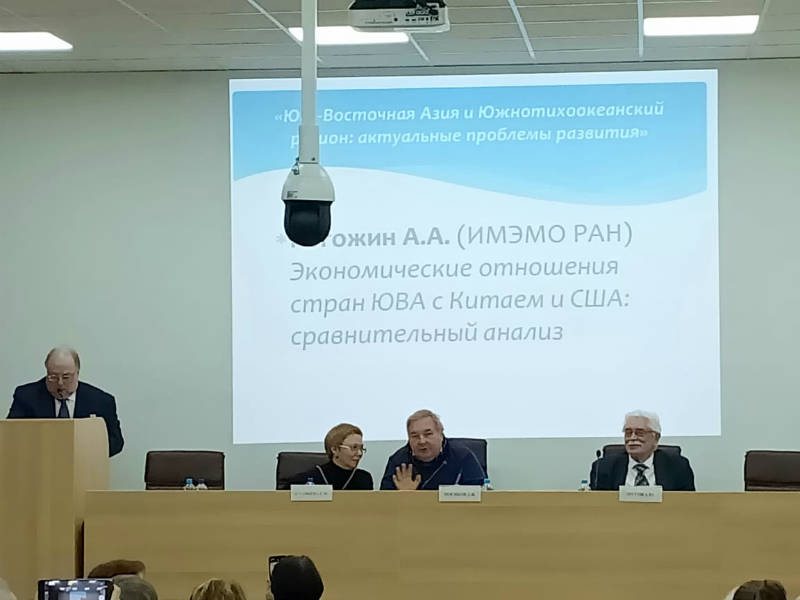 On December 18th, 2019, the annual inter-institute conference "Southeast Asia and the South Pacific Region: Actual Problems of Development" was held at the Institute of Oriental Studies.
The conference was attended by scientists, as well as applicants and graduate students from various academic, research and educational institutes. The event was attended in particular by specialists from the Institute of Oriental Studies, the Higher School of Economics, the Russian Institute of Strategic Research, the Institute of the Far East of the Russian Academy of Sciences, IMEMO RAS, the Institute of Asian and African Studies of MSU, Russian State University for the Humanities, RUDN University, MGIMO University, the Ministry of Foreign Affairs of the Russian Federation, the Institute of Socio-Political Research, and St. Petersburg State University.
The conference was held in the framework of two sections. The first section was devoted to the regional problems of development, the presentations were made concerning urgent problems of global transformation in Asia. I would especially like to highlight the report of D.V. Mosyakov on the reaction of China to this transformation. The issues of the new Asian strategy of the USA, the existing and potential growth points in the strategic partnership between Russia and ASEAN were also considered. A comparative analysis of the economic relations of Southeast Asian countries with China and the United States was presented, the problems of energy security and counter-terrorism in the region were examined, as well as the topic of ASEAN cooperation with the Eurasian Economic Union countries in the humanitarian sphere, etc.
The second section was devoted to the trends and prospects of the socio-economic and political development of individual countries of the region, as well as cultural issues. In this part of a coference a large block of speeches was devoted to Indonesia. In particular, reports were presented revealing the domestic political situation in this country and the problems of Russian-Indonesian relations. In addition, the topics of internal political and economic development of ASEAN, Australia and Oceania were discussed in the speeches. The issues of Russian-Malaysian and Russian-Singaporean relations were raised, as well as some problems in relations between Australia and China at the present stage, etc. 38 reports were presented in total. The total number of participants was about 50.