News
Friday 19 November 2021
The 5th International Conference "Archival Oriental Studies"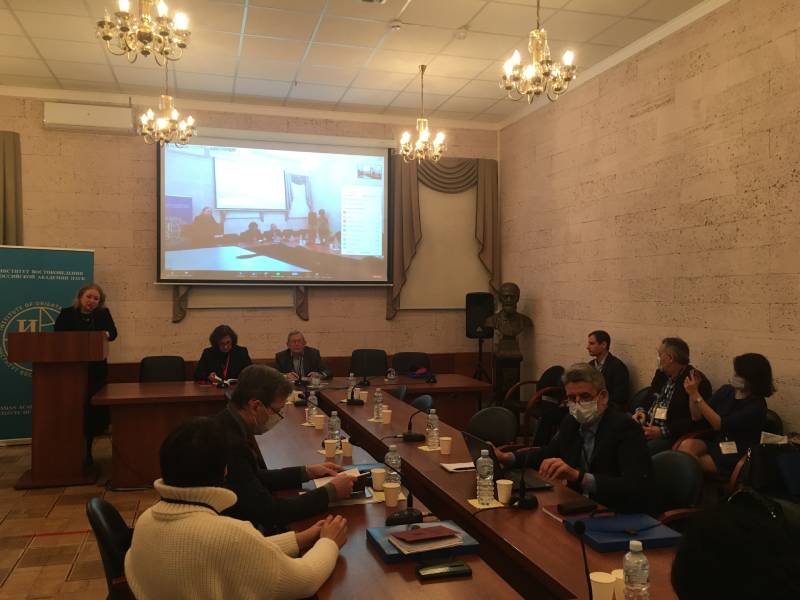 On November the 17th-19th, 2021, the Fifth Anniversary International Scientific Conference "Archival Oriental Studies" was held on the 17th-19th of November, 2021. The event was organized by the Department of Oriental History (the Institute of Oriental Studies), it was conducted at the Institute of Oriental Studies (the Russian Academy of Sciences).
The conference was attended by over seventy scientists and researchers from different countries: such as Russia, Germany, Poland, Ukraine, Azerbaijan, Uzbekistan, and Kyrgyzstan. Russia was represented at the conference by the researchers from numerous regions and cities: Moscow, St. Petersburg, Kazan, Vladivostok, Yekaterinburg, Lipetsk, Ulan-Ude, Makhachkala, the Republic of Crimea (Simferopol, Bakhchisarai), and others.
The forum topic was supposed to touch upon and discuss such issues as:
1) Archival source studies as a fundamental branch of Russian oriental studies;
2) Innovative technologies and special characteristics of databases and electronic libraries formation from archival materials and documentary sources in oriental languages;
3) Traditional and modern working methods with documentary sources. The Russian School of Archival Oriental Studies;
4) Oriental materials in the funds of Russian and foreign archives: general characteristics, descriptions, cataloging, preservation;
5) Manuscripts in oriental languages ​​in the funds of Russian libraries and archives;
6) New studies of oriental documents and materials revealed in the archives.

The reports and presentations of the conference participants were various, these materials touched upon traditional and modern methods of researching archival data, the issues of preservation, cataloging, digitization, publication of oriental manuscripts and early printed books. The scientific and epistolary orientalists' heritage of the 19th - 20th centuries was widely presented in the conference participants reports.The archival data and documents on which the scientific research of the conference participants was based were incredibly extensive and were concentrated in the archives, libraries, various scientific organizations, and even in private collections around the world. Traditionally, scientists-archivists introduced their colleagues at the event to new orientalist documents and materials found in Russian and foreign archives.