Persons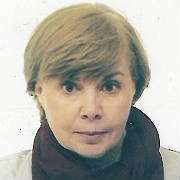 Olga
Bibikova
PhD in History
Center for Study of Common Problems of Contemporary East
E-mail: olbibikova@mail.ru

Education:
Moscow state Institute of international relations (1971)
Teaching:
The Institute of Asia and Africa of Moscow state University.
The Institute of practical Oriental studies
Scientifics Interests:
History and ethnology of the Arab countries, Islamic studies, modern interfaith and interethnic relations in the countries of the Near and Middle East, migration processes, Muslim diasporas in Europe
---
Author of more than 60 articles in the Enciklopediya Krugosvet
List of main publications
Bibikova Olga. Araby: istoriko-ehtnograficheskie ocherki .[Arabs: Historical and Ethnographic Essays. ]- Moscow, AST: Hranitel', 2008. - 445 р. (Istoricheskaya biblioteka)
Bibikova Olga. Dekorativno-prikladnoe iskusstvo musul'man [Decorative and Аpplied Аrts of Muslims ]. - Kazan: Izdanie RII. 2010. - 194р. - circulation Unknown УДК ББК
Bibikova Olga. Immigranty iz musul'manskih stran v Evrope: EHtnokonfessional'nyj i sociokul'turnyj aspekty [ Immigrants from Muslim countries in Europe: Ethnoconfessional and sociocultural aspects. ]. - Moscow .: IV RAN. 2015. - 376р.