Persons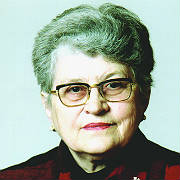 Eugenia
Yurlova
PhD in History
Scientifics Interests:
Social problems of modern India
---
Leading Research Fellow at the Centre of Indian Studies, IOS RAS. She used to cooperate with a number of Indian research and education centres, such as Anthropological Survey of India, Calcutta; Maulana Abul Kalam Azad Institute of Asian Studies, Calcutta; Jawaharlal Nehru University, New Delhi; Indian Council of Social Science Research, New Delhi; SNDT Women's University, Bombay; Research Centre for Women's Studies, Bombay; Centre for Women's Development Studies, New Delhi, and others. Participant of international projects, such as "Reconstructing the World. B.R. Ambedkar and Buddhism in India"; "Ethnicity, Caste and People. India and the Soviet Union".
Authored six books and a number of scholarly articles, both in Russian and English, on castes, religion and gender problems in India and other countries.
LIST OF BOOKS:
WOMEN OF INDIA. TRADITIONS AND MODERNITY. Moscow, 2014, 519 pp.;
INDIA. FROM DEPRESSED TO DALIT. Moscow, 2003, 394 pp.;
SCHEDULED CASTES IN INDIA. New Delhi, 1989, 223 pp.;
UNTOUCHABLES IN INDIA. Moscow, 1989, 223 pp.;
SOCIAL STATUS OF WOMEN AND WOMEN'S MOVEMENT IN INDIA. Moscow, 1982, 182 pp.