Minbar. Islamic Studies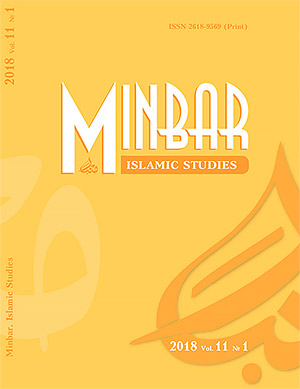 Minbar. Islamic Studies «Minbar. Islamic Studies» is a peer reviewed international scholarly journal dedicated to the study of all aspects of Islam and the Islamic world. Particular attention is paid to works dealing with history, science, anthropology, religion, philosophy and international relations, as well as ethical questions related to scientific research.
The journal is committed to the publication of original research on Islam as a culture and a civilization. It particularly welcomes work of an interdisciplinary nature that brings together religion, history, psychology and theology.
The journal has a special focus on Islam in the Russian Federation and contemporary Islamic Thought.Contributions that display theoretical rigor, especially works that link the particularities of Islamic discourse to knowledge and critique in the humanities and social sciences, will find Minbar. Islamic Studies receptive to such submissions.
The journal creates a space where historically, psychologically and theologically grounded research into all aspects of Islam — from the birth of Islam to modern times — can be publicized, reviewed and discussed. Minbar. Islamic Studies is open to theoretical and critical contributions and is indexed in CrossRef, the Directory of Open Access Journals (DOAJ) and Google Scholar.
Each paper published in the journal is assigned a DOI® number, which appears with the author's affiliation in the published paper.
Minbar. Islamic Studies founded in 2008 by the Russian Islamic Institute and has been published by the RII under the title Minbar (2008–2018. Registration Certificate ПИ № ФС77-33940 issued November 1, 2008), and under the current title since August 2018. The journal is published four times a year. It is registered by the Federal Service for Supervision in the Sphere of Telecom, Information Technologies and Mass Communications. Registration Certificate ПИ № № ФС77 - 73567 issued August 24, 2018.
Founders:
Private higher education institution Russian Islamic Institute (RII). Address: 19, Gazovaya str., 420049, Kazan, Russian Federation. Website: http://www.kazanriu.ru
Institute of Oriental Studies, Russian Academy of Sciences (IOS RAS). Address: 12, Rozhdestvenka str., Moscow, Russian Federation. Website: https://www.ivran.ru
Kazan (Volga Region) Federal University (KFU). Address: 15, Pushkin str., 420008, Kazan, Russian Federation. Website: https://kpfu.ru/imoiv
Partner: The State Museum of Oriental Art. Address: 12a, Nikitskiy blvd., Moscow, 119019, Russian Federation. Website:http://www.orientmuseum.ru
Publishers: Institute of Oriental Studies, Russian Academy of Sciences (IOS RAS). Address: 12, Rozhdestvenka str., Moscow, Russian Federation. (Website: https://www.ivran.ru) Nonprofit partnership Council for Islamic Education. Address: 19, Gazovaya str., 420049, Kazan, Russian Federation (Website: http://islamobr.ru)
---
Materials published in Minbar. Islamic Studies are peer reviewed and selected. The scholarly content of the publications and the titles and contents of the sections meet the requirements set by the Higher Attestation Commission of the Ministry of Science and Higher Education of the Russian Federation for peer reviewed publications in which the key academic findings of dissertations for Candidate of Science and Doctor of Science degrees must be published for the following groups of academic specializations:
07.00.00 History and Archaeology
07.00.02 National History
07.00.03 Universal History (of the corresponding period)
07.00.07 Ethnography, Ethnology and Anthropology
07.00.09 Historiography, Source study and Methods of historical research
07.00.15 History of international relations and foreign policy
19.00.00 Psychology
19.00.01 General Psychology, Personal Psychology, History of Psychology
19.00.05 Social Psychology
26.00.00 Theology
26.00.01 Theology
ISSN: 2618-9569
---
Contact information:
107031, Institute of Oriental Studies, Russian Academy of Sciences
Address: 12, Rozhdestvenka str., Moscow, Russian Federation.
Website: www.minbar.su.
Phone: +7 (495) 928-93-14, mob. +7 (495) 928-93-14.
Email: http://www.minbar.su