News
Wednesday 14 October 2020
Online Meeting on the Anniversary of Yemeni Revolution.Presentation of a Book about Yemeni-Russian Friendship by H. E. Ambassador Ahmad Salem Al-Wahishi.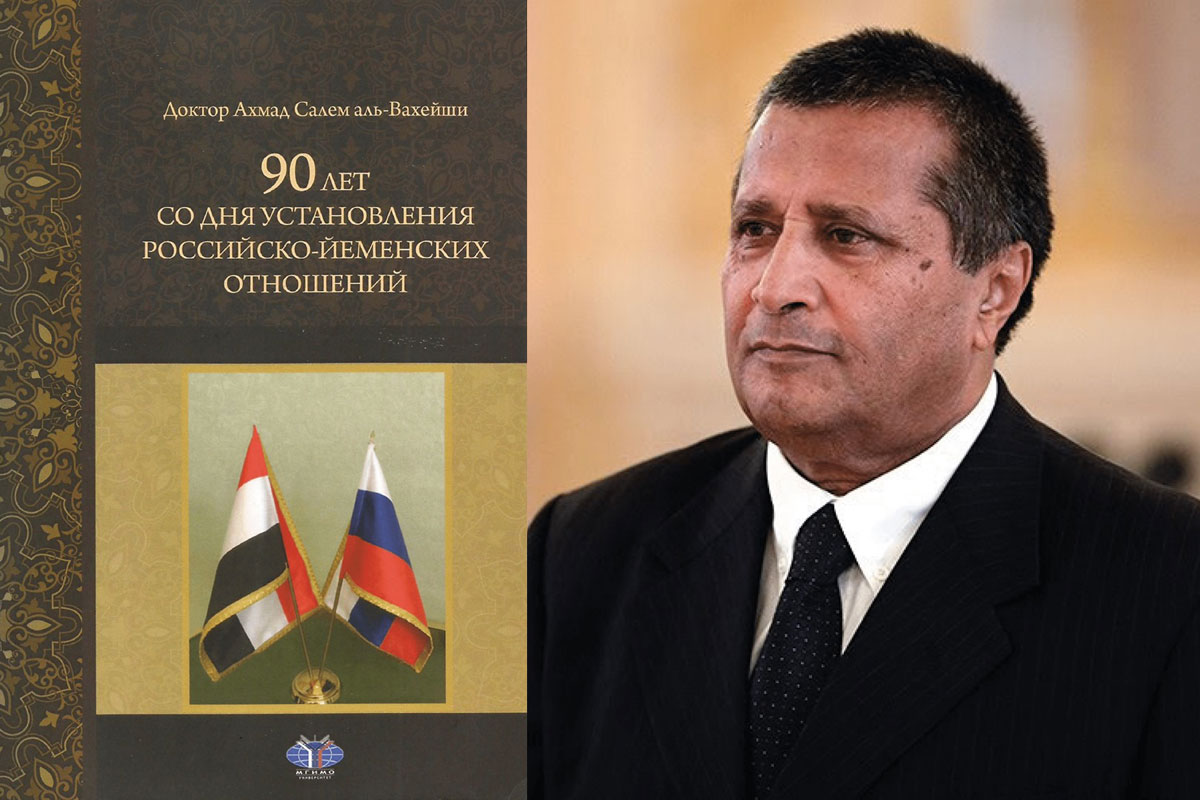 On October 14, 2020, Center for Arab and Islamic Studies (Institute of Oriental Studies RAS) and Embassy of Yemen Republic in Russia commemorated the Anniversary of October 14 Anti-Colonialist Revolution and September 26 Anti-Imami Revolution. They also held an online presentation of "Russian-Yemeni Relations: 90th Anniversary", a book by Ambassador Extraordinary and Plenipotentiary of Yemen Republic to Russia Dr. Ahmad Salem Al-Wahishi.
The event was attended by ambassadors of Arab countries, Russian experts, students and Yemeni civil activists.
President of the Institute of Oriental Studies, Prof. Vitaly Naumkin delivered an opening speech. He greeted the special guests from diplomatic missions and other participants and he noted that Russia has traditionally looked at revolutionary tendencies in Yemen with intent interest, starting with the late 1800s liberation movement against the Ottoman rule.
Considering desire for freedom an inherent trait of Yemeni mentality, he concluded that on October 14, 1963, the day when liberation uprising in the country's South had started, Yemen's fate took a dramatic turn. In relation to the history of ties between the two countries, he pointed out that Kingdom of Yemen became the second Arab nation after Saudi Arabia to establish diplomatic relations with Soviet Union in 1928. They were developed further after 1955 and particularly after the two Yemeni Republican states had been founded. As a final touch to his speech, he stated that to date every attempt to put Yemen under foreign control has failed.
Prof. Naumkin congratulated His Excellency Ambassador of Yemen Dr. Ahmad Al-Wahishi for the publication of his book and expressed his hope for peace in the war-torn country.
Ambassador noted the significance of the celebration of the Anniversary of 14 October Revolution for the Liberation from colonialist and 26 September Revolution to end Imami rule. Both 14 October and 26 September Revolution Anniversaries are important for our people who look with proudness at their sacrifices. He quoted President Abdrabbuh Mansur Hadi who gave speech on this occasion and referred "to the implementation of a strategy to restore the functioning of state agencies and institutions and stressed the need to implement all the articles of the Riyadh Agreement as soon as possible".
Ambassador continued his speech: "We appreciate Russian support to 14 October and 26 September Revolutions and the fruitful Yemeni-Russia friendship which lasts for more than nine decades and which was covered in the book in both its Arabic and Russian version".
Also for his part, as an author, Ambassador A. Al-Wahishi, thanked MGIMO-University for its help in translation and publication. He told that the book contains numerous new documents from recently declassified archives. He also emphasized USSR and Russia's fundamental role in the formation of the modern Middle East by making Sykes-Picot agreements publicly available and providing effective aid to many countries of the region including Yemen. Ambassador also mentioned that the recent initiative on collective security system in the Middle East by Russian Foreign Ministry has stirred up interest all over the Arab World.
Answering the questions of Russian diplomats and experts, His Excellency expressed gratitude for Russia's clear-cut regional policy towards key issues, including the Palestinian problem, and all-round support of peace and reconciliation initiatives by the UN Special Envoy in Yemen M. Griffits. He specifically stressed his belief that Russia can play a central role in the peace process in Yemen, and Russian business may use the partial national debt relief as a starting point for new economic projects in the country.
In the end of the Round Table Prof. Naumkin thanked the participants and informed them about the Institute of Oriental Studies' willingness to host other meetings with diplomats for Arab countries in the future.