News
Monday 17 May 2021
The Report of B.U. Kitinov on Vesak International Holiday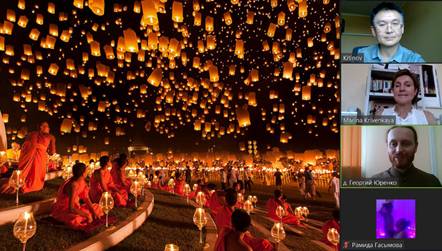 An interactive educational lesson for teachers of UNESCO Associated Schools was organized on the 17th of May 2021. It was timed to coincide with the international festival of Vesak that was celebrated around the world on that day.
The event was organized by the UNESCO "International Education and Integration of Migrants" of the Regional Studies and Ethnocultural Education Faculty of the Social and Humanitarian Education Institute of the Moscow Pedagogical State University.
Vesak is a holiday celebrated in the Buddhist countries on the day of the full moon in May. The traditions of the Vesak celebration are very colorful and diverse and vary depending on the type of Buddhist tradition characteristic of a particular state. Vesak was included in the UNESCO holiday calendar in the year 2000 and had been celebrated since that date annually in the United Nations (UN) agencies.
The ceremony was devoted to acquaintance with the diversity of Vesak holiday traditions in the regions of Russia, Mongolia, and Tibet (PRC), as well as in the countries of southern Buddhism (India, Sri Lanka, and Indonesia).
Baatr Kitinov, Doctor of Historical Sciences, Senior Researcher at the Institute of Oriental Studies (the Russian Academy of Sciences), Associate Professor of the General History Department of the Peoples' Friendship University of Russia, the Ambassador of Mongolian Culture in the Russian Federation, spoke of the traditions of the Vesak Day festive culture in Russia and the Tibetan Buddhist world.
Yuri Yurenko, the Leading Specialist of the Historical and Cultural Studies Center of Religion and Intercivilizational Relations of the Regional Studies and Ethnocultural Education Faculty of the Institute of Social and Humanitarian Education, Moscow State Pedagogical University, continued the conversation about the Vesak holiday in the traditions of southern Buddhism.
The event was held in a distance format on the Zoom platform.