News
Wednesday 23 June 2021
Amur State University and the Institute of Oriental Studies Join Forces in Sinological Research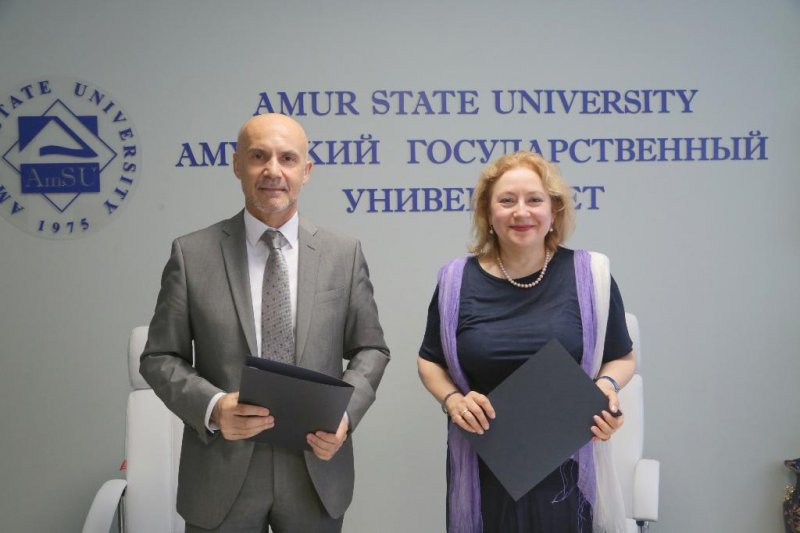 Natalia Romanova and Valentin Golovachev, the Deputy Directors on Research of the Institute of Oriental Studies, visited Amur State University on the 23rd of June 2021.
Svetlana Veryuzhskaya, the Head of the Social Projects Department of the Amur Region Representative Office under the President of the Russian Federation and the Government of the Russian Federation, accompanied the guests.
Andrey Plutenko, the Rector of the Amur State University, held a working meeting with the Institute representatives at the beginning of their visit. The following officials attended this meeting as well: Andrei Leifa, Vice-Rector for Academic and Scientific Affairs, Olga Pelevian, the Dean of the International Relations Faculty, Marina Khaimurzina, the Deputy Head of the Chinese Studies Department, Sergey Filonov, Professor of the Chinese Studies Department and the leading researcher at the Sinological Research Center.
The parties discussed scientific cooperation in sinological research sphere. Cooperation agreement was concluded as a result of the negotiations. The agreement was aimed to unify the organizations staff efforts in the study of Chinese culture and history.
Amur State University and the Institute of Oriental Studies are planning conducting joint conferences, symposia, readings, seminars, participation in international projects and programs, publication of articles collections, collective monographs and brochures based on the results of cooperative research, regular exchange of specialists, undergraduates and graduate students, as well as exchanging of audio and video materials.
The guests were given an introductory tour on the university main building after the agreement signing. Then the guests visited the Sinology Department, the Center for Sinological Research, and the Science Museum of the Amur State University.
The researchers of the Institute of Oriental Studies met with teachers and students of Sinology Department of the International Relations Faculty at the Advanced Professional Training Center.
The specialists of the International Business and Tourism Department organized a city tour for the guests.
Source: Amur State University