Persons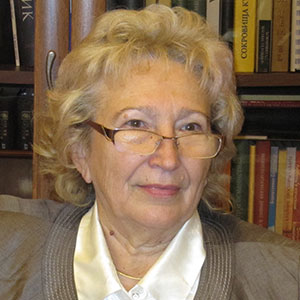 Nina
Semenchenko
PhD in History
Department of Israel and the Jewish Communities
Scientifics Interests:
The process of formation of the Israeli civil society; Israeli government's immigration policy; History of the Russian-Israeli relations; Russian in Palestine/Israel (since XIX century)
---
Main publication:
T.Nosenko, N.Semenchenko The vain feud. Essays of the Soviet-Israeli Relations 1948-1991. M.: Institute of Oriental Studies. 2015
Semenchenko N. The Jewish Community in Palestine in the Second World War: The Relations with GB and the USSSR // Palestine and Israel from II World War to Present Days. / Karasova T.A. (ed.) M.: Institute of Oriental Studies RAS, RAS. 2016, pp. 24-50. ISBN 978-5-89282-691-4.
Semenchenko N. Soviet broadcasting to Israel // Russian-Israeli Relations: History and Present Day, (collection of articles). M.: Institute of Oriental Studies, RAS. 2012, pp. 65-72 . - ISBN 978-593273-365-3.
Semenchenko N. Russian community in Palestine after the First World War // Oriental Archive N 1(25), 2012. pp. 53-62.