Persons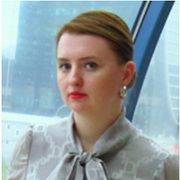 Babenkova
Svetlana
PhD in Economics
IOS RAS » Center for Arab and Islamic Studies » senior researcher
Scientific Interests
The financial systems of the countries of the Arab Region. Social and economic processes arising in Arab countries in the development of crises in their economies. The causes, risks, consequences of development of shadow economies in Muslim countries. The development of investment and business processes in Arab countries in conditions of modern globalization systems. Islamic banking. The issues, problems, functional features of the supervision process in the banking systems of Arab countries in the operation of classical (traditional) and Islamic (partner) banks in them.
Biography
2018 - 2019 Institute of International Affairs of Kazan (Privolzhsky) Federal Univercity Senior scientific worker of Research and Educational Centre "The Centre of International Parlamentarianism"
Education
Moscow Aviation Institute (National Research University), Aeronautical and Helicopter Engineering.
Russian Correspondence Institute of Textile and Light Industry, Accounting and audit
Russian Academy of Business, Finance, monetary circulation and credit, postgraduate study.
The Finance Academy under the Government of Russian Federation - Inspector of commercial bank – Bank manager; - МВА (Bank manager)
Institute of Oriental Studies under Russian Academy of Sciences, Regional Studies, (Arab countries), specialist.
2012 - National Payment System of Russia (Bank of Russia).
2011 - Russia in the modern world. Relations between the Russian Federation and the international financial and economic organizations and major countries of the world (Diplomatic Academy of Russian Ministry of Foreign Affairs).
2011 - Legal groundwork of banking business (Bank of Russia).
2005-2011 - IFRS in activity of Russian credit organization. Theory and practice of IFRS for Russian credit organizations.
Case study of financial statements of credit organization settled in accordance with IFRS for bank supervisory (PwC Expert).
2005 - Inspection controlling for credit and portfolio risks (Bank of Portugal).
Inspections focused on market and other types of risks (Bank of France).
Banking Supervision and Regulation (Bank of Finland).
(The Program of Technical Assistance of European Union «TACIS»).
2005 - Bill market and business practices with bills («Association of participants of bill market»).
2020 - 2 Days Online Training Workshop on Islamic Finance Products - Mudarabah, Ijarah, Murabaha and Sukuk (Center of Islamic Banking and Economics (Al Huda (Dubai).
Teaching
Russian Academy of Business, Finance
Kazan Federal University
---
Federation on economic policy, industry, innovative development and entrepreneurship.
Member of Editorial board.
Scientific notes of the Russian academy of entrepreneurship «Role and the place of a civilized entrepreneurship in economy of Russia.
Member of Editorial board
Guide of the entrepreneur. Scientific practical edition. the Russian academy of entrepreneurship