Persons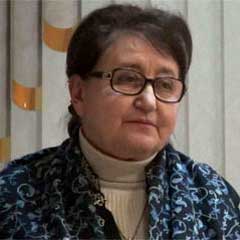 Shaumyan
Tatiana
PhD in History
IOS RAS » Center for Indian Studies »
Journal of the Institute of Oriental Studies RAS » Editorial Colleague
Eastern Analytics »
Scientific Interests
Specialist in India's Foreign Policy, International Relations in South and Central Asia and Far East in XX-XXI century.
Education
Graduated from the Department of History, Moscow State University, 1960. Post-graduate studies – Institute of Oriental Studies. Researcher at the Institute of Oriental Studies from 1960. Thesis: Russia and Tibet at the beginning of XXth century, 1966.
Teaching
Prof. of South Asian Politics, Department of World Politics, Moscow State University
---
Participated in International Conferences and Seminars in India, China, Great Britain, Denmark, Germany, Sri Lanka, Switzerland, China, Turkey, Georgia etc.; Participated: Human Rights Commission, Geneva (1996-2006); Trilateral Joint Project Russia-India-China (from 2001); Deputy Head, Indo-Russian Joint Commission on Cooperation in Social Sciences. Member, the Scientific Council under the Security Council of Russian Federation; Member, Advisory Council on International Affairs of the Federation Council of the Federal Assembly of the RF. Member, National Committee on BRICS Studies
More than 200 publications in Russia, India, USA, Great Britain, Netherlands etc.
List of main publications
Russia, Great Britain and Tibet in the Great Game. Moscow, 2017, 205 p. (In Russian)
Tibet: The Great Game and Tsarist Russia. New Delhi, Oxford University Press, 2000, 223 p
The Image of Russia in India: Past and Present (with co-authors), Moscow, 2011 (In Russian)
Human Rights in the Context of Inter-civilizational Contacts // Peoples of Eurasia. The Problem of Inter-civilizational Contacts. М., 2005, P. 142-176 (In Russian)
Russia and Tibet. Russian Archive Documents 1900-1914. M., 2005, 14.5 а.л., Introduction 1,8 а.л. (In Russian)
Indo-Pak Armed Conflict in Kargil: Causes and Consequences// Himalayan and Central Asian Studies/ New Delhi. Vol. 4, N=2, April-June 2000
The Russian "Threat" to British India: Tibetan Angle //Indian History. A Russian Viewpoint. Ed. by Ye. Vanina. Delhi, Pragati, 2003. 20 p.
The Himalayan Frontiers of China // Frontiers of China: History of Formation. Moscow, 2001 (In Russian)
Regional Problems of Non-proliferation. South Asia (co-authors) // Nuclear Weapons after the Cold War. Carnegie Moscow Center. Moscow, R.Elnin Publishing House. 2008
The Changing Geopolitical Situation in Central Asia and China, Russia and India // Russia, India and China Interaction in XXI century: Problems, Perspectives and Directions. М., 2004, Vol. 2. P. 46-55 (In Russian)
Environmental Problems: Possibilities for Trilateral Cooperation //China Report. Vol. 43, Number 2, April-June 2007/ New Delhi. Pp.195-201
Security Issues: SCO and India // SCO: New Dimensions. Moscow, Institute of Far Eastern Studies. 2008. P. 302-328 (In Russian)
USSR/Russia Political Support of India in International Arena during the Cold War // To India of Spirituality…Felicitating Volume on the 70th Birthday of Prof. R.Rybakov. Moscow, 2008. Pp. 440-453 (In Russian)
The Tibet Question in 1907: Anglo-Russian Convention // Euroasian Vision. Felicitating Volume on the 70th Birthday of Prof. Devendra Kaushik. Ed. By Mahavir Singh and Victor Krassilchtchikov. New Delhi, 2003. Pp. 295-306
Tibet in Soviet Studies. Eurasia Twenty Years After //Maulana Abdul Kalam Institute of Asian Studies, Kolkata. Shipra, 2012. P. 62-77
Jammu and Kashmir Problem //Ethnicity and Religion in Modern Conflicts Ed/ by V.A.Tishkov and V.A.Shnirelman. Moscow, Nauka. 2012. Pp. 522-572. (In Russian)
Political Systems of South Asian Countries. URSS, Moscow, 2014. 176 Р. (In Russian
Russia Seeks to Revive the Primakov Triangle with India and China // Global Dialogue Review. New Delhi, October-November-December 2015. Volume 3, Number 4. P. 12-20
India in Regional and Global Context // VIII Convent of Russian International Studies Association. Global Management.№2. MGIMO-University, 2015; ISBN 978-5-9228-1368-6. RISA-2015. Pp. 148-159;