Persons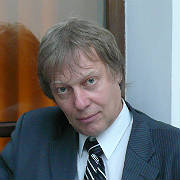 Nemchinov
Viktor Mixajlovich
PhD in Economics
Department of Comparative Cultural Studies
E-mail: diaversity@mail.ru

Education:
Moscow State Institute of Foreign Languages
Scientifics Interests:
Specialist in civilizational studies of the countries of the East, including topics such as intangible capital and the problems of spiritual beings; the hermeneutics of the dialogue of cultures
---
List of main publications
V.M. Nemchinov "Otrazhenie kartiny mira v muzee–biblioteke–arkhive i problema pravdivosti v intellektual'noi produktsii istoricheskoi nauki'. V sb.: Transformatsii muzeev-bibliotek-arkhivov i informatsionnoe obespechenie isto-richeskoi nauki v informatsionnom obshchestve: sbornik statei po materialam nauchno-prakticheskogo seminara. INION RAN, 21 fevralia 2017 g. / Avt.-sost. E.A. Vorontsova; otv. red. I.V. Zaitsev / INION RAN. – Moskva: INION RAN, 2017. – 320 s. S.103-111
V.M. Nemchinov "Obretenie smysla: razmyshleniia o problemakh soznaniia v usloviiakh neopredelennosti'. Mir Psikhologii № 3, Moskva,2017. MPSU. S.27-33
V.M. Nemchinov "Sila i slabost' slova'. Mir Psikhologii № 4, Moskva, 2017. MPSU. S.92-102
V.M. Nemchinov "Kommunikatsiia i informatsiia – antropologicheskaia dialektika nachala KhKhI veka' S.74 – 84. Fokus №3 avgust 2017
V.M. Nemchinov "Oriental Political Economy: Past, Present and Future' Vostochnaia Analitika № 2, 2017 IVRAN, Moskva s. 43-47
V.M. Nemchinov "Politekonomiia Vostok: vchera, segodnia, zavtra'. Osobennosti, problemy i perspektivy ekonomicheskogo razvitiia stran i regionov Vostoka: Azii i Severnoi Afriki. Materialy obshcherossiiskoi konferentsii ekonomistov-vostokovedov. Moskva, IV RAN, 2017, 197 s. elektronnaia publikatsiia s.122-125
V.M. Nemchinov "Sotsium i lichnost': mekhanizmy soznaniia, vkliuchaiushchie i blokiruiushchie razvitie talanta' (s. 265 – 278 ) v sbornike materialov XVIII konferentsii OIIaI RAN. (seriia nauka, filosofiia, religiia) Sankt-Peterburg. Aleteiia, 2017 – 598 s.