Religion and Society in the East
Yearbook Religion and Society in the East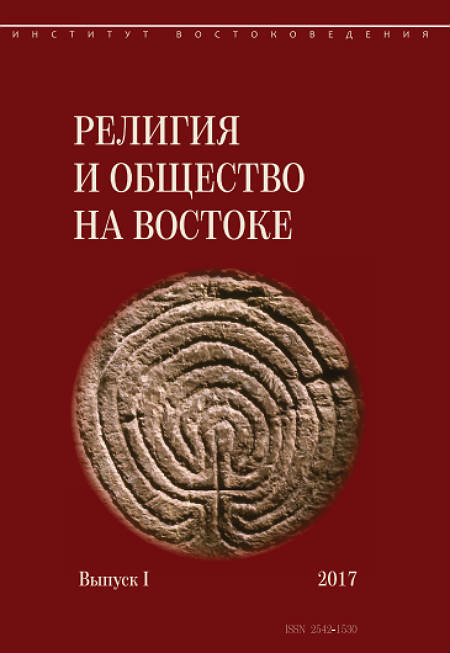 Religion and Society in the East The periodical "Religion and Society in the East" is preparing and publishing in the Institute of Oriental Studies of the Russian Academy of Sciences (Moscow). It is the output of researches of the same-named interdisciplinary group of the Institute. The first issue was appeared in March 2017.
The materials of the periodical cover a wide range of issues, such as
the relationship of religious communities and the states of the East,
religious policy and the political participation based on religious affiliation,
social problems and participation of religious structures in their decision,
views on religion through the prism of secular ideologies, questions of the legitimacy of power claims in the light of theological attitudes,
the peculiarities of religious practices in their interrelation with social processes, and many others.
All topical problems of Eastern societies are analyzed taking into account the historical experience of their development.
The concept of the publication is based on an awareness of the relevance and importance of studying the religious factor in social relations, culture and politics. At the same time, approaches to the topics being developed tend to be restrained in assessing religious activity as a factor of conflict. The facts of interconfessional contradictions and interreligious discord considered in the articles are estimated from the point of view that they do not act autonomously, but they are closely intertwined, in addition to religious, by many factors, namely, wealth and social inequality, disparity in the political participation of the population, ideological pressure and influence of fundamentalists, the clash of material interests and the power ambitions of conservatives and religious and political reformers, as well as the diverse influence from abroad.
In addition to the author's articles, archival materials with commentaries and observations are also published, as well as original works of world-famous public and political figures.
The edition assumes different thematic headings into which the materials of issues are combined: "Religion and the State", "The Thread of Events – the Canvas of Ideas", "In Search of a Common Measure", "Historical Retrospective", "Close-up", "Ex Principiis / From Sources" and others.
ISSN 2542-1530
---
Contacts
Institute of Oriental Studies
Rozhdestvenka st., 12, office 125, Moscow
8(495) 621-64-08
E-mail: religion@ivran.ru; alsaraby@ivran.ru