Oriental Epigraphy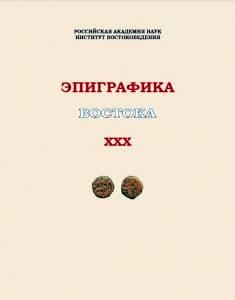 Oriental Epigraphy More than 70 years ago, the first issue of Oriental Epigraphy annual was published in the N. Marr Institute for the History of Material Culture, Leningrad branch. The periodical was dedicated to topics traditional for Russian Oriental Studies, largely based on the research of the literary heritage of Eastern civilization, both in modern and dead languages.
Prof. V. Krachkovskaya, a renowned researcher of the Arabic language epigraphs of Central Asia, was the periodical's first editor, who significantly contributed to its consistent academic quality and credibility. With her passing in 1974, the publication had ceased; however, ten years later the periodical was re-established as an irregularly published almanac. The editorial board of Oriental Studies researchers from Moscow and Leningrad was led by B. Piotrovsky. Since 1998, Oriental Epigraphy, now edited and published by the Department of Oriental History, Institute of Oriental Studies, has returned to its annual format. Every publication of a previously unknown epigraph, translated, commented and analyzed, is a discovery of a new historical source, crucial for the development of the Oriental Studies.
Oriental Epigraphy publishes facsimile images of epigraphs, text reconstructions, translations of the inscriptions, academic commentary and historical works based on these sources. Innovative technology is used to develop and transform the traditional methods of research, allowing to expand the understanding of the Oriental epigraphs.
The editorial board views the Oriental epigraphy as a research of the entire scope of Asian and North African non-manuscript written materials, dating back to various historical eras – from the ancient times to the 20th century. The inscriptions on buildings, walls, cliffs, clay tablets, coins, metalwork, wood, ceramics and other similar objects, are inherent in the cultural heritage of the Eastern nations and civilizations. The writings, meant to be everlasting, were supposed to etch the turning points of history into the memory of the society. For a number of Eastern cultures, the epigraphs are the only source able to tell about specific historical events, settlement areas of various ethnic groups, names of political leaders; they allow to look into the history of languages and writing systems. Despite their relative briefness, the epigraphs have always been crucial for the Oriental Studies, disclosing unique, highly valuable information that has sometimes survived exclusively due to the long-lasting material carrying the inscription.
Editorial Board:
Vitaly Naumkin – Chairperson
Dmitry Vasilyev – Deputy Chairperson
Eleonora Kormysheva
Andrey Korotaev
Alexander Stolyarov
ISSN 0131-1344
---
Contacts:
Department of Oriental History
Institute of Oriental Studies RAS
Moscow
12, Rozhdestvenka st.