Proceedings of the Institute of Oriental Studies of RAS
"Proceedings of the Institute of Oriental Studies of RAS" Periodical Series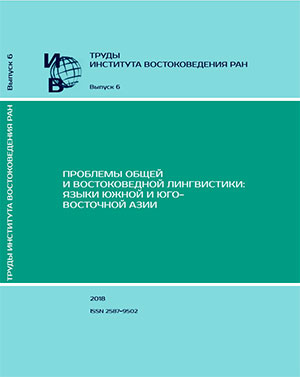 Proceedings of the Institute of Oriental Studies of RAS The "Proceedings of the Institute of Oriental Studies of RAS" periodical series was established in 2017.
The periodical is published by the Institute of Oriental Studies.
The periodical is registered by the National ISSN Agency of Russian Federation
ISSN 2587-9502
The journal publishes original academic works on the entire scope of issues and topics of the Oriental Studies: history, archaeology, culture, economy, politics and linguistics of the Eastern nations, from the ancient times to the present day. The periodical's main mission is to inform the academic community about new discoveries and achievements made by the researchers of the Institute.
---
A year before the 200th anniversary of the Institute of Oriental Studies, one of the most prominent research centers in Russia, a new publishing project – the "Proceedings of the Institute of Oriental Studies" series was launched. The Institute's principal activity is academic publishing, thus, the establishment of this conceptual periodical became one of the focal points of anniversary commemoration.
Every issue of the Proceedings is a unique theme-based collection of academic articles representing various departments and centers of the Institute. The fully original works cover the most relevant issues of the modern-day Oriental Studies. Moreover, problems of specific nations and ethnicities, from Morocco to the west to Japan to the east, including areas of Russia such as North Caucasus, Volga region, Siberia and the Far East, are researched. The articles cover the contemporary development, history, linguistics, cultures, religions, ideology, political movements and art of North African and Asian civilizations.
The Institute's researchers, including heads of the academic departments, regularly contribute to the Proceedings as authors, compilers or editors. All departments and research centers of the Institute are involved in the publication of this periodical.
---