Persons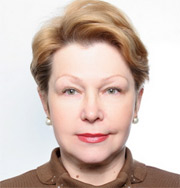 Irina
Lebedeva
Dr. of Economics
Center for Japanese Studies
Телефон: +7 495 624 6692
E-mail: cjr-ran@yandex.ru

Since 1972 work at the Institute of Oriental Studies of RAS. In 1983 defended PHD on the subject "Structural Changes in the Japanese Manufacturing", in 2004 – the doctoral dissertation on the subject "Development of the Industry and Business in Post-war Japan" (both are at the Institute of Oriental Studies of RAS). Since 1987 to 2007 managed the sector of economy of Japan. From 2000 to 2003 was the chairman of the Association of Japanologists of Russia.
Education:
1972 – graduated from Moscow State University, Faculty of Economics, 1979 – from post-graduate course, Institute of Oriental Studies
Teaching:
In 1995 - 1996 taught at Tohoku University (Sendai) (a lecture course – "Economic history of Russia in the 20th century", a seminar – "Specific features of management of the Japanese companies"). In 2006-2009 taught at SU-Higher School of Economics (a course of lectures – "Economy of Japan").
Scientifics Interests:
Postwar Japanese economy. social problems
---
List of main publications (monographs):
Structural changes in Japanese manufacturing (monograph), 1986
The Japanese corporations: strategy of growth (monograph), 1995
Small business in Japan (monograph), 2004
Japan: the development of industry and enterprise in Japan (second half of XX – beginning of XXI c.) (monograph), 2007
Globalization of Japanese Manufacturing (monograph), 2012